Eastlyn Bright Tolle
Eastlyn Bright
Request Pricing or Availability

About Eastlyn Bright Tolle:
Of all the things I get to do in this world, photographing weddings is one of my favorite. It's like being in the front row of the best show I've have ever seen, because I'm not only witnessing the moments of the before and after, the single and married, and the birth of a new family, I'm capturing them.
With that said, I want to share in couple's joy by documenting their story in a way that, I believe, will be dynamic, unconventional and leave a lasting legacy for their future family.
My style is unconventional because I'm not the parent's photographer. I'm not the audience's photographer. I'm not here to please anyone expect the couple.
My heartfelt desire is to photograph people and moments as they are. I may give direction as to where to stand, but I'm not going to plan poses based on other photographer's work. I want to capture people in an honest state because authenticity is beautiful. When you look at a photograph you should be able to not only see it, but feel its emotions.
Where are you located? Do you charge a travel fee for weddings not in your location?
Ohio. If your wedding/elopement/anniversary/engagement session is out-of-state, we charge variations of a flat rate travel expense fee, depending on the location. If your wedding/elopement/anniversary/engagement session is out-of-the-country, then we only charge for round-trip airfare, hotel for 2-3 nights and a rental car (if needed).
Best Work (10)
Recent Weddings (5)
Ben + Hannah
May 13, 2017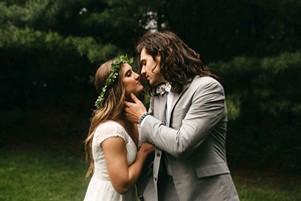 Chase + Kasey
May 5, 2017
Jake + Kelsey
October 23, 2016
View More