Kevin Wyllie
Based In:
Scotland
Phone:
+44 7885 772577
Website
Average Price:
$$$$
Recent Fearless Awards:
0
297
Tell a Friend: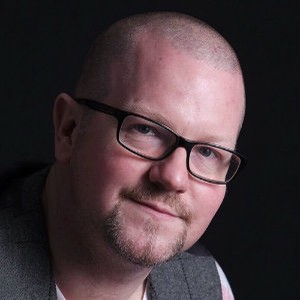 About Kevin Wyllie:
I'm Kevin, based on the West coast of Scotland, where I live with my wife Silviya, two daughters and three dogs.
For me, photography is so much more than simply a business - it's a 24/7 obsession with capturing special moments all across Scotland, the UK and overseas. The night before a wedding you can guarantee that I will take hours to fall asleep as my head buzzes with plans and ideas - and I'll be wide awake at an insane hour of the morning with those ideas fresh in my head.
On the day, I will capture those candid moments which make you smile, laugh & cry when you look at back at them, while your formal bridal portraits will showcase the true love shared between you both.
Long after the cake has been eaten, your dress has been dry-cleaned and your feet have recovered from dancing the night away, your memories will be preserved in the most beautiful storybooks & albums that I can find anywhere in the World. Each one, hand-crafted in Italy, can be customised from over 40 million (yes, really) different options to ensure that your album is just as unique as you are.
Portfolio (13)
Testimonials (5)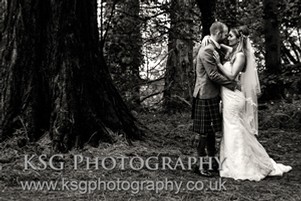 Kevin was great from the start when we first booked him till the end of our wedding day. Any questions we needed Kevin answered straight away. Made us all feel relaxed and pictures were great we are so happy with them. Will definitely recommend Kevin to other couples getting married!
- Gillian + David
- October 20, 2017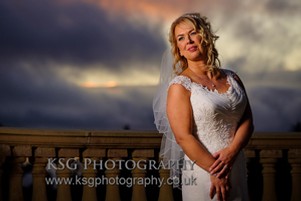 Kevin was so easy to work with,he didn't pressure us getting our photos taken.It made the day even more easy going as I hate getting my photo taken! Kevin was with us all day and evening but you were unaware of him taking photos throughout.
Kevin told us sunset was at 6.30p.m. and sure enough he captured the loveliest photos of them all with us and a beautiful sunset background.Amazing! Kevin is such an easy going guy who will do his very best to capture just the right moments. And he does! A great guy who is so easy to get on with who makes you feel at ease and goes that extra mile! He
Read More
does pre wedding shoots which helps prepare you for being in front of the camera and gives you handy tips!

We definitely recommend him for capturing your special day. A wedding photographer who goes above and beyond.
- Allison + Tam
- October 7, 2017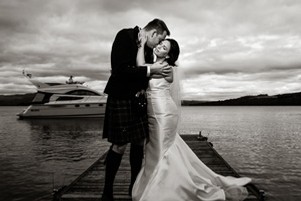 Kevin was our photographer for our wedding at The Cruin on Loch Lomond. My wife and l were first drawn to Big Kev for his drive and passion. His attention to detail was excellent. We met Kev several times before the wedding and had a pre wedding shoot in which he put us at ease and explained the detail of the big day. Nothing was a problem for Kev. Kev even edited and printed some photos for us on the night of the wedding. A fantastic gesture, and gave us a flavour of things to come. He worked tireless throughout the day to get the perfect photo. His photos were incredible. An all round
Read More
outstanding photographer and we would have no hesitation in recommending Kev in the future.
- Stuart + Louise
- July 14, 2017
View More