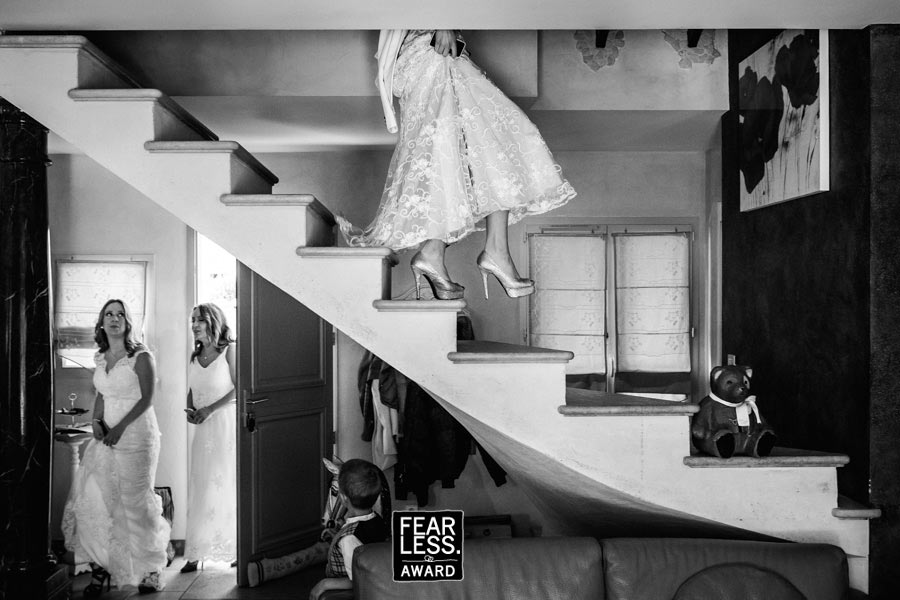 Diagonal lines are powerful compositional tools—and the photographer made great use of the diagonal staircase in this image. In the top triangle of the frame. the bride descends (with her special shoes highlighted). Below, other members of the wedding party wait in anticipation. The strong narrative movement makes the image powerful and appealing.
About William Lambelet:
More confident behind my camera than in writing I'd like to give you an understanding of my philosophy of a modern and sensible photography.
For me, taking photos is telling a story via capturing unique moments: This means to make live or resurrect emotions by catching authentic and spontaneous instants. One of my greatest satisfactions is to feel having captured the personality and the emotions of my subjects. That's why every single encounter is a new challenge. Also, each encounter is a source of inspiration for taking different photos each day. I'd like to contribute with my regard and empathy to share and immortalize happy moments and great emotions with you.
Living in Montpellier, I am covering France but I am also willing to travel abroad to accompany your event and transform moments to unforgettable souvenirs.
View Full Profile
All Fearless Awards by William Lambelet