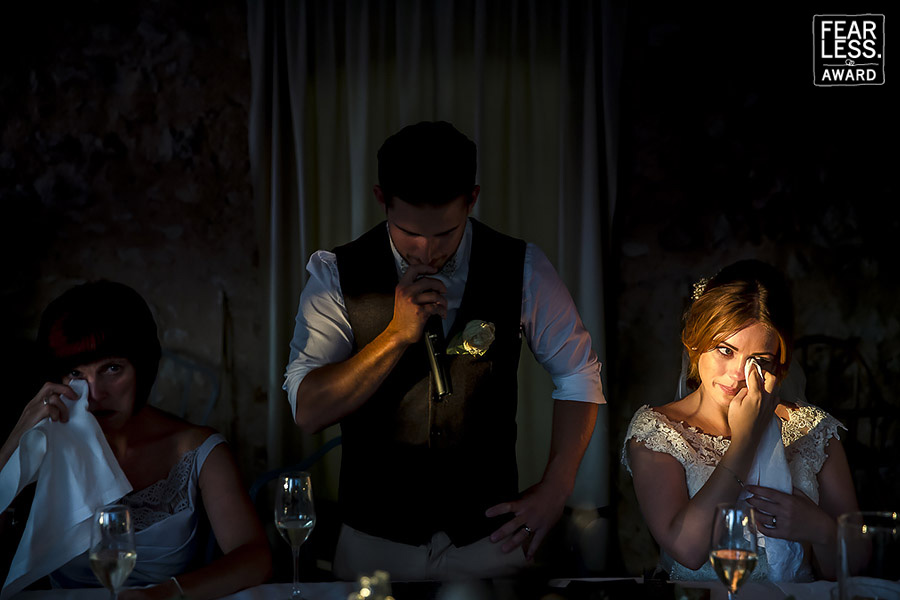 Like all good stories, this image plays out in stages. The light on her face immediately draws us to the the teary bride on the far-right edge of the frame. Then we peruse slowly back through the frame to the downturned face and somber pose of the groom, and further still to the second seated woman, also clutching a handkerchief. The mirrored triangular composition lends a quiet feel that is supported by the subdued tones and perfectly suited to the emotional depth of the moment.
Contact Alessandro Iasevoli

About Alessandro Iasevoli:
Hi, I am Alessandro. I do social and documentary photography and Wedding is my core. Why? simply because it is one of the most important day of our lives, of your life where emotions, smiles, anticipation, hugs, tears, joy, heartbeats are all gathering there in one place and one day... to remember ourselves we are born to LOVE! and I will be there too.. to catch all your moments and emotions and give it back to you through my camera and my vision.
View Full Profile
All Fearless Awards by Alessandro Iasevoli