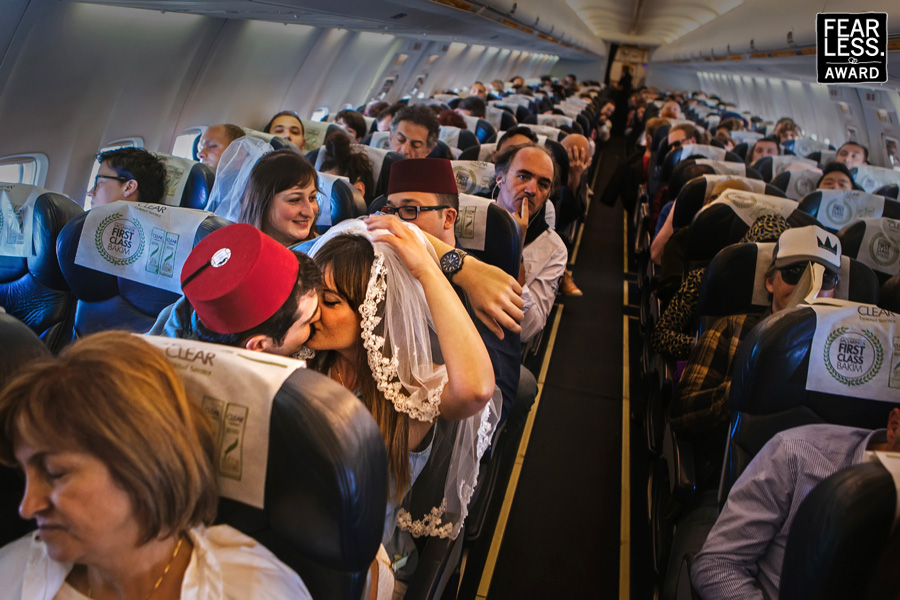 A double wedding? And the photographer is on the plane? We may come away from this shot with more questions than answers—but one thing is sure: it's a standout image. The raised arms of the foreground couple (and a little vignetting all around) helps center our gaze in the complex composition.

About Ufuk Sarisen:
My professional wedding photography service can capture your memories, from your preparation till the big event. Of course you want to picture your most beautiful day of your life. So many things happen that it is impossible to experience everything. Photojournalism will capture these moments. Through these pictures you can re-live these moments again. At the end of the wedding day you will get your amazing story via the photos. I also shoot professional portraits in photojournalistic style, indoor or outdoor.
Ufuk Sarisen opened his first photojournalistic personal exhibition at Istanbul in 2008 (fishermen behind the nets). He was involved in some mixed exhibitions. He was the photo editor of Skylife magazine. He continues to work for some magazines and newspapers by producing documentary and travel photography projects (Atlas Geographical, Skylife, Food&Travel, Formsante, PhotoAtlas, Photoline, etc). In his studio he also works as advertising photographer. He is teaching wedding photography in his studio.
View Full Profile
All Fearless Awards by Ufuk Sarisen