Posing head-to-head on the ground for a shot down at doggie level—it all sounds good . . . until someone's face gets stepped on! Happily, the photographer didn't stop shooting and captured the groom's laughter. The resulting shot may have been unplanned, but probably feels even more real to the couple than if everything had gone "right."
Based In:
Cleveland, OH
Phone:
440.835.5000
Website
Average Price:
$$$$
Recent Fearless Awards:
1
16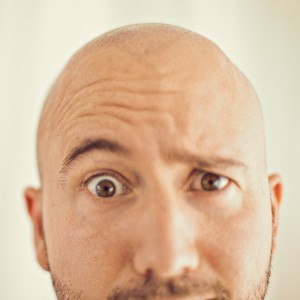 About Brett Yacovella:
As the Founder and Creative Director of Making The Moment, a small intensely creative team of visual storytellers, Brett is a talented, passionate photographer. One of Cleveland's most sought after wedding photographers, Brett's personal approach has helped him achieve a style all his own, with images full of life and personality.
Your wedding photographer is so much more than just a portfolio or a set of "FAQs". Brett believes the heart of good wedding photography is a healthy relationship between a couple and their photographer and that your photographer should be your trusted sidekick on your wedding day.
View Full Profile
All Fearless Awards by Brett Yacovella