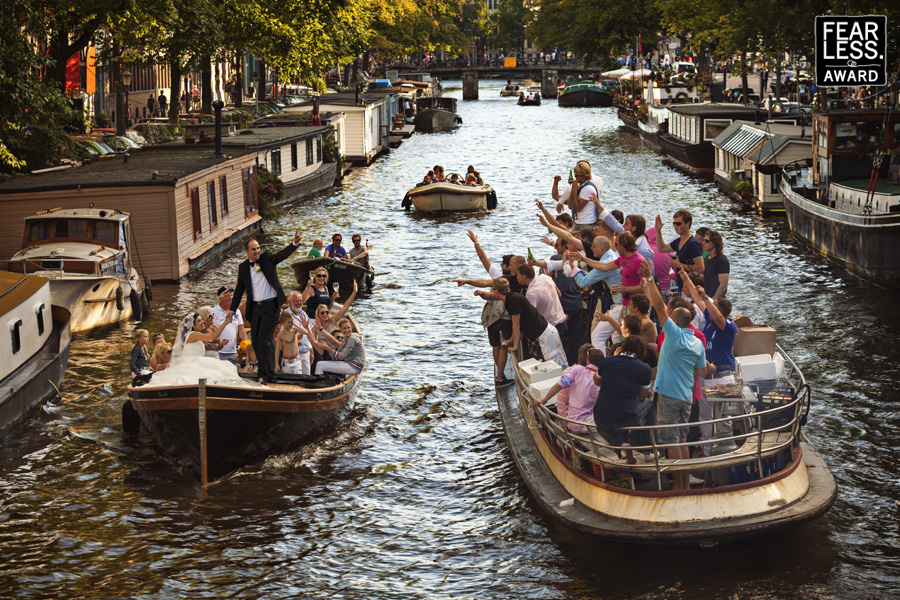 Love is contagious—and the folks on this crowded boat seem to have caught the bug! A wedding day water excursion may not be entirely unexpected in some cities, but taking the opportunity showcase their fellow travelers' reactions elevated this to a standout image.
Based In:
Amsterdam
Phone:
0031621212562
Website
Average Price:
$$$$
Recent Fearless Awards:
9
370
About Axel Drenth:
Axel komt als hoofdfotograaf naar jouw bruiloft en dat is geen wonder. In 2012 sleepte hij de Overall Bruidsfoto Award in de wacht, in 2014 veroverde hij de Bruidsfoto Award in de categorie Bruid en in 2015 kreeg Axel de Master Wedding Photography Award. Internationale erkenning kreeg hij met de Fearless Awards. Axel heeft vele nominaties en eervolle vermeldingen op zijn naam, waaronder de PIA-D'or. Als fotograaf speelt Axel vooral met licht en het juiste standpunt. Hij heeft een journalistieke manier van fotograferen, zoekt naar sfeerbeelden en gezichtsuitdrukkingen die de dag typeren. Zoals het gespannen gezicht van de bruidegom net voordat hij zijn stralende bruid ziet, of de traan van oma tijdens het jawoord.
View Full Profile
All Fearless Awards by Axel Drenth