Marieke Zwartscholten: Top 10 Fearless Awards
Real Moments Wedding Photography is all about capturing authentic emotion, natural connections, and unscripted moments of the wedding day. It shows love in all its real-life vulnerability and brings meaningful interactions to light. This style of wedding photography is perfect for couples who entrust their photographer with the freedom to document honest feelings and genuine interactions of their family and friends on the wedding day. Guest curator
Marieke Zwartscholten
shares some thoughts about her top choices from curating 4213 entries in the REAL MOMENTS category of Collection 44. Marieke is a professional wedding photographer and educator based in Rotterdam, Netherlands. She has earned 9 Fearless Awards since joining Fearless in 2013.
Emotions were everywhere, when I went through the submitted images. And I loved them. Tears are not unique. But in this picture, I'm almost overwhelmed by emotions. Everything is just perfect and contributes to the feeling. Hurray to the photographer for getting close.
There were quite a few pictures that had the elements of someone young and someone old in the picture. Grandparents are contributing to and important in many entries. This picture stands out for me because it tells a story. We see a very old arm and hand holding someone else's. It feels symmetrical, although it's not. In the background I think I can see the bride and groom and it could even be during their vows. So it feels like looking into the future or seeing more generations. To me it's a story of building a family.
When I started out as a photographer, I would look at awards of couples in the most beautiful landscapes and think: no wonder that wins an award, but we don't have that kind of landscape where I live. All excuses. The reason I'm telling this, is because some people might say that about this picture: having a bride's father in this situation is quite unique. And it is. But that doesn't make it a Fearless Award. The photographer went out of her way to make the perfect picture of this situation. Light it perfectly, get all the elements in the perfect spot and wait for the perfect moment. And this is such a great and emotional moment. This picture will be treasured forever.
For the "Real Moments" category I don't want a picture to be staged or directed. And you could argue about the question if the performer does this for the photographer. But to me, that question doesn't bother me for this image; it doesn't distract me. I keep looking at it and wonder what's happening. And I applaud the photographer for framing it perfectly.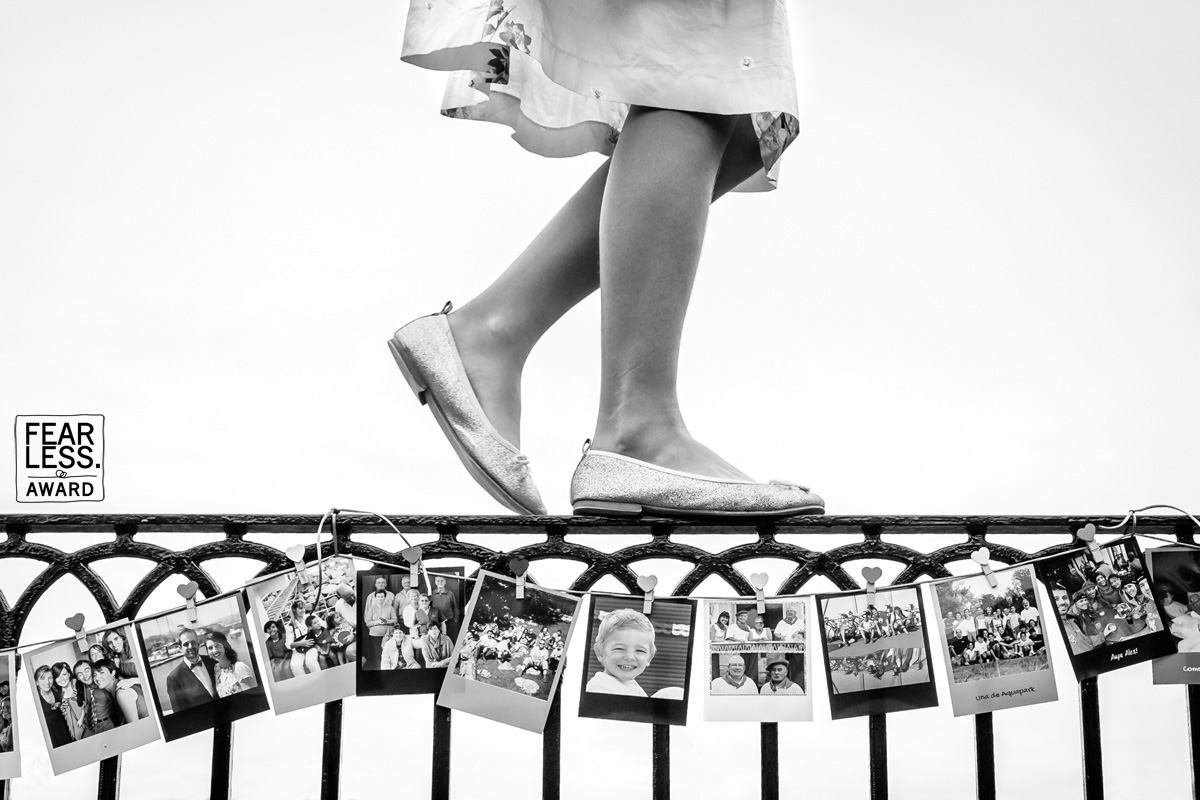 For me, a photo is worthy of a Fearless Award if it makes me feel something. This picture makes me feel things in places, I'm not sure I'm comfortable with ;-) And that's an accomplishment, if you realize it's just a picture of a probably cute girl playing around. I love that we don't see more than this. The pictures add to it: it gives a feeling of celebration, of youth and of more people being there.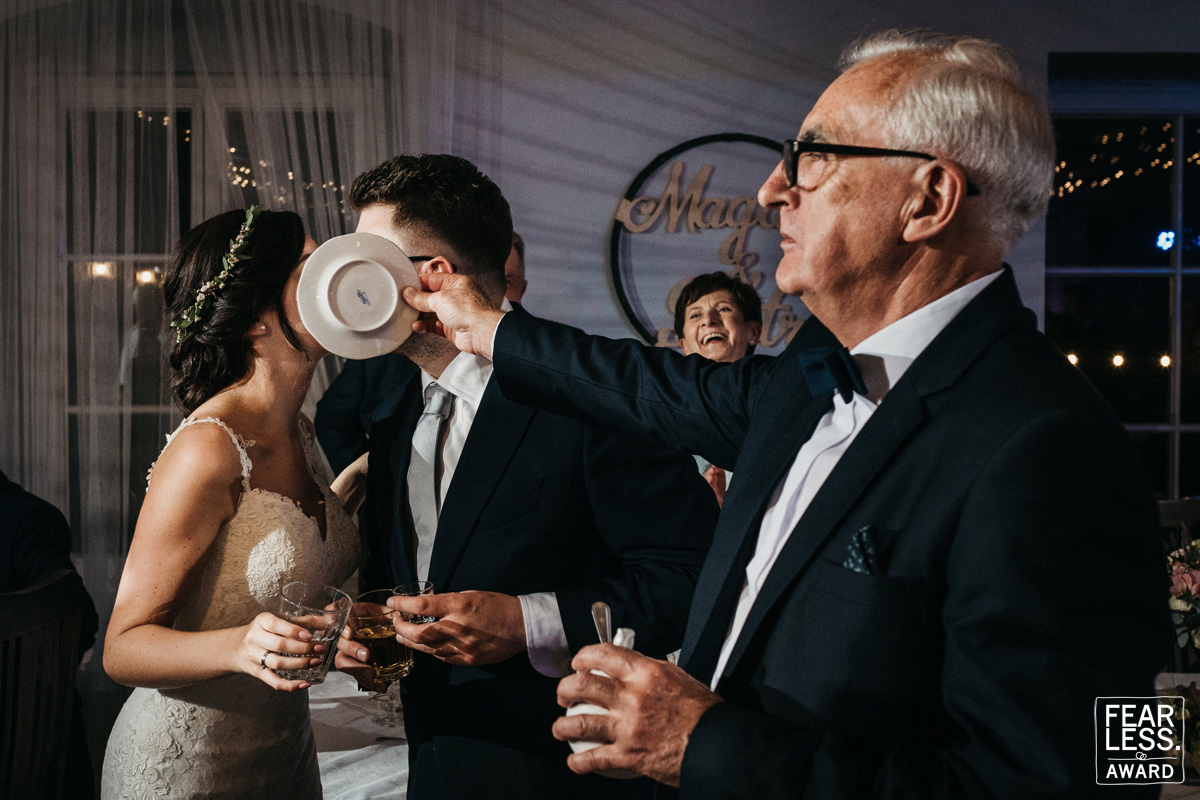 Photo by

Lukasz Czajkowski (Poznan, Poland)
I think this picture is very funny. The dad is obviously joking with the plate, but his expression makes me wonder if there's a bit of truth in his action? Probably not, but the contrast makes it funny.
A loving moment during the wedding, which everybody seems to be enjoying. But if you look at it longer it can give mixed feelings: is he the loving grandfather or who is he?
This picture tells a story, which I don't know if it's true, but that doesn't bother me. In my head, she's the bride, he's her dog, he cannot come inside because of her dress, but they love each other and there's nothing else on the planet than the two of them. So the tattoo is the name of the dog. At least in my head it is.
There were so many great pictures of breastfeeding brides. But just one of a bride with a pump. And I think it shows even more trust in the photographer to allow her in the room during this process. But that doesn't make the picture. What makes it great, is the fact we still see she's the bride, because of her veil, and that's she's obviously having a difficult conversation on the phone. Getting married isn't just romantic. Life goes on.