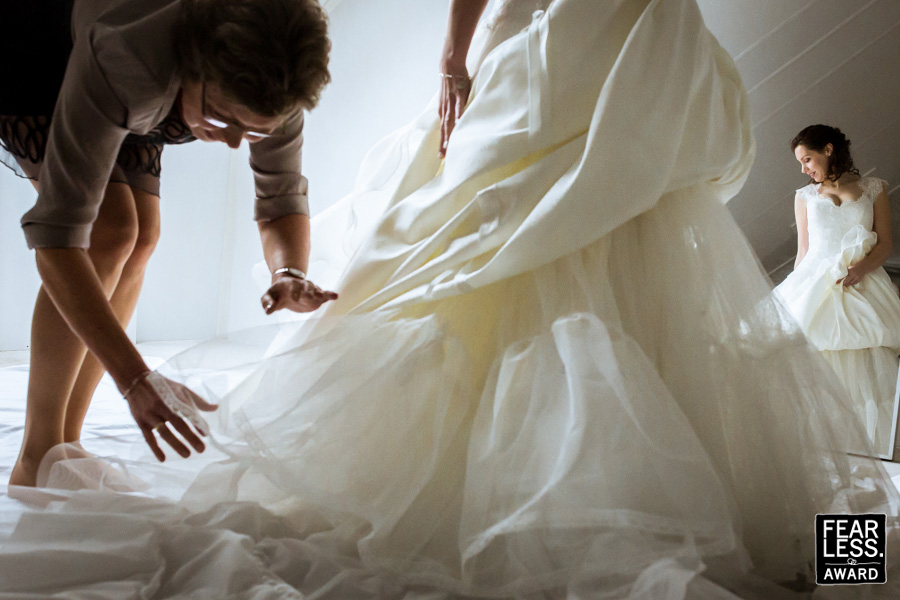 The photographer included the mirror so subtly that, at first, there seem to be three people in the room. We spot the trick on a second glance, but it's a pleasing deception that encourages us to linger and study this quiet moment of preparation.
Request Pricing or Availability

About Isabelle Hattink:
FotoBelle was set up by Isabelle Hattink in 2001 after she had obtained her degree in photographic design from the Academy of Art and Design St. Joost in Breda.
She will photograph your wedding with enthusiasm and drive as if it were a real life story. She uses a journalese style and there is always an assistant or a second shooter at her side.
"I love spontaneous, powerful and exuberant emotions. I think it is really fantastic that I will be given opportunity to experience your emotions with you and take photos that capture your precious moments. Above all, your wedding day must be a perfect experience!'
View Full Profile
All Fearless Awards by Isabelle Hattink