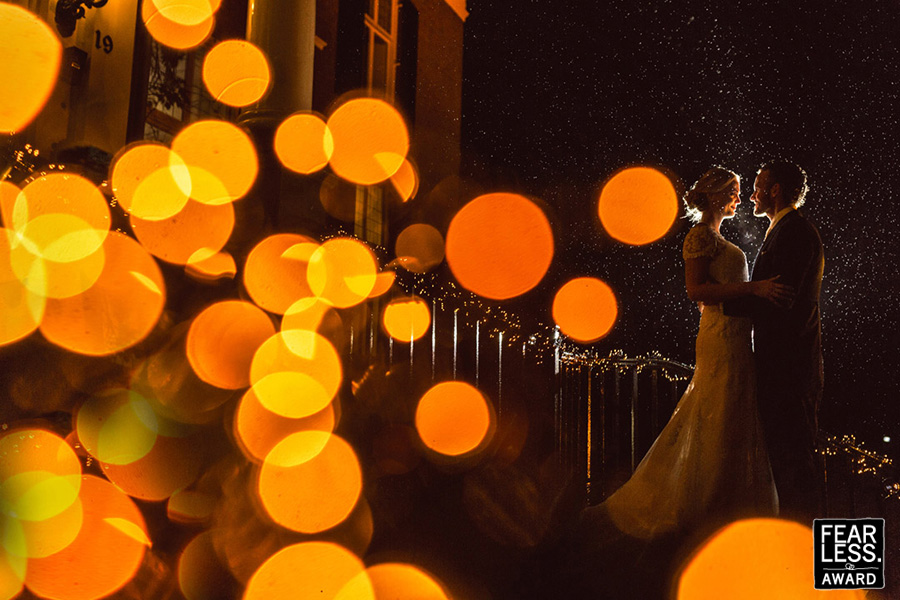 The layers of lighting in this image add a gripping sense of depth and intimacy. Soft orange spheres of bokeh dance in the foreground, while tiny droplets of rain are frozen in the background by a pop of flash from behind the couple. In addition to rim lighting that pops them out of the dark background, the flash wraps around the couple just enough to reveal their sweet smiles.
Request Pricing or Availability

About Axel Drenth:
Axel komt als hoofdfotograaf naar jouw bruiloft en dat is geen wonder. In 2012 sleepte hij de Overall Bruidsfoto Award in de wacht, in 2014 veroverde hij de Bruidsfoto Award in de categorie Bruid en in 2015 kreeg Axel de Master Wedding Photography Award. Internationale erkenning kreeg hij met de Fearless Awards. Axel heeft vele nominaties en eervolle vermeldingen op zijn naam, waaronder de PIA-D'or. Als fotograaf speelt Axel vooral met licht en het juiste standpunt. Hij heeft een journalistieke manier van fotograferen, zoekt naar sfeerbeelden en gezichtsuitdrukkingen die de dag typeren. Zoals het gespannen gezicht van de bruidegom net voordat hij zijn stralende bruid ziet, of de traan van oma tijdens het jawoord.
View Full Profile
All Fearless Awards by Axel Drenth