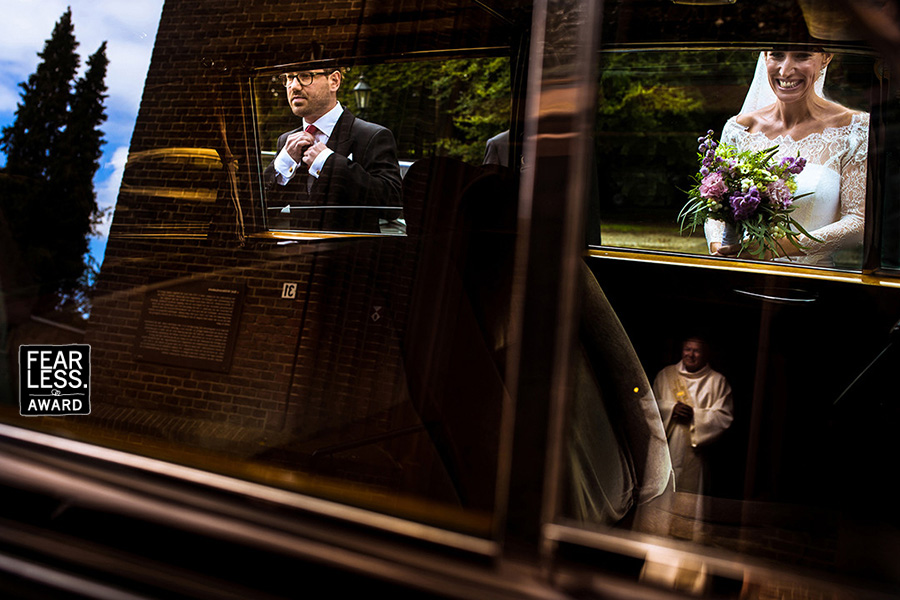 A puzzle of reflections and transparency, this shot can be a little tricky to figure out. Even without analyzing all the angles, though, it's easy to feel the power of the composition. Each in their own discreet sector, the bride, groom, and officiant seem poised for the big even ahead. Looking to left of the frame, we even get a sense of the venue. It's a lot of storytelling—masterfully packed into one frame!
Request Pricing or Availability

About Isabelle Hattink:
FotoBelle was set up by Isabelle Hattink in 2001 after she had obtained her degree in photographic design from the Academy of Art and Design St. Joost in Breda.
She will photograph your wedding with enthusiasm and drive as if it were a real life story. She uses a journalese style and there is always an assistant or a second shooter at her side.
"I love spontaneous, powerful and exuberant emotions. I think it is really fantastic that I will be given opportunity to experience your emotions with you and take photos that capture your precious moments. Above all, your wedding day must be a perfect experience!'
View Full Profile
All Fearless Awards by Isabelle Hattink