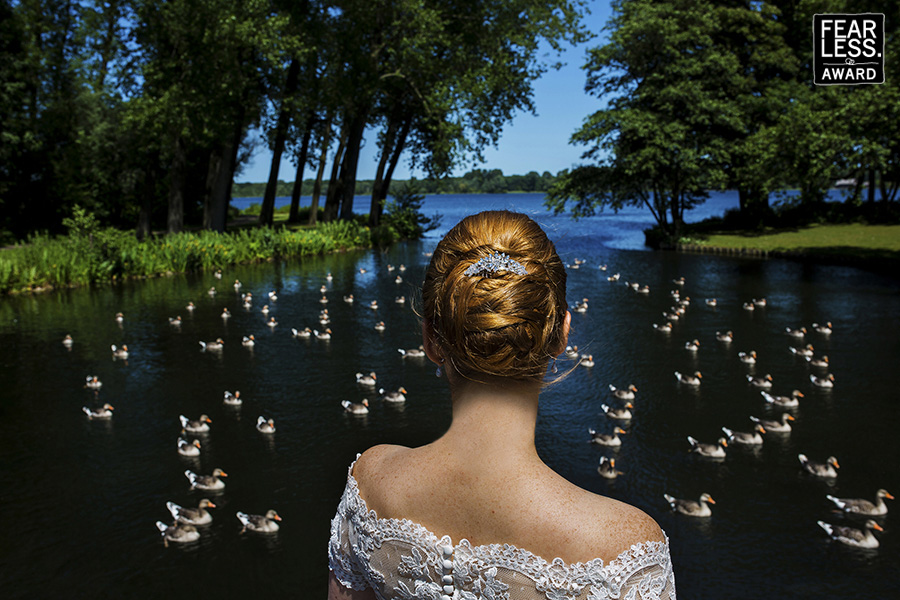 While many photographers are skilled in the art of posing humans, it's rare to find one who has mastered the art of posing ducks—and the uniformity of their positions is one of things that really makes this image sing. With her shoulders at a graceful diagonal, the bride's head is perfectly framed in the opening to the little pond. Additionally, the cool tones throughout the frame contrast wonderfully with her skin tone and rich red hair in a pretty up-do. There's a lot to love in this dreamy bridal image.
About Isabelle Hattink:
FotoBelle was set up by Isabelle Hattink in 2001 after she had obtained her degree in photographic design from the Academy of Art and Design St. Joost in Breda.
She will photograph your wedding with enthusiasm and drive as if it were a real life story. She uses a journalese style and there is always an assistant or a second shooter at her side.
I love spontaneous, powerful and exuberant emotions. I think it is really fantastic that I will be given opportunity to experience your emotions with you and take photos that capture your precious moments. Above all, your wedding day must be a perfect experience!
View Full Profile
All Fearless Awards by Isabelle Hattink