It can be challenging to construct a visually complex image without losing the subjects. Here, the bold red framing elements at the top and bottom of the frame pop our attention to the high-contrast figures shown at the center of the image. Even the bold maneuvers of the juggling bartender can't contend with the locked gazes and tight pose of the couple. Just enough light falls on the bride and her gown to reveal her delicate skin tones and a bit of detail on the white dress.
Based In:
Austin
Website
Average Price:
$$$$
Recent Fearless Awards:
8
162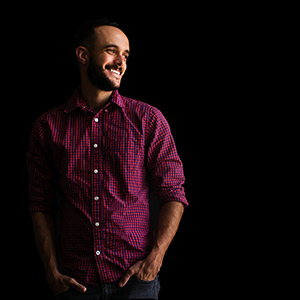 About Adam Kealing:
Meet Adam - a lover of all things music and political satire, with an irresistible itch for adventure and open arms for all those willing to join him. He'll make you laugh 'til your side hurts, if you pay attention, but has a disarming sincerity that could melt an ice cube. Through the lens, he sees drama, scale and perspective, and transforms a real life moment into art in an instant.
View Full Profile
All Fearless Awards by Adam Kealing