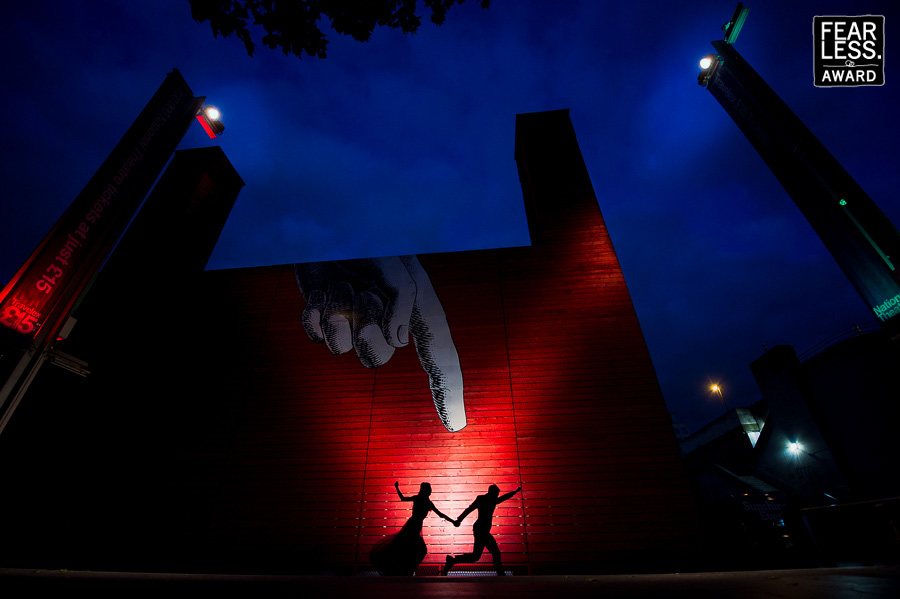 A pop of flash silhouetted this sprinting couple against a red wall that perfectly complemented the blue night sky. The downward-pointing-finger mural added another layer of humor to the vibrant scene. The photographer shot from a low perspective with a wide-angle lens to make the lines of the buildings converge around the couple, locking us into the fun and excitement of the key moment.
Request Pricing or Availability

About Alex Beckett:
Every love story I've been lucky enough to capture is unique, so the first thing I want to do is to get to know you, so that I can reflect your personalities in the most creative way. In 2015, I won awards from the highly prestigious Rangefinder magazine and from renowned global blog Junebug Weddings and I want you to feel assured that all of that experience, commitment and energy will be focussed on your day - on providing you with a personal and joyous visual record, from getting ready through to the wow! shots.
View Full Profile
All Fearless Awards by Alex Beckett