The bride's scrunched-up smile in reaction to the groom's kiss feels wonderfully natural and intimate. A jumble of green fronds streaks up through a clean, white sky and frames the couple in a perfect triangle. Their spiky shapes are a perfect foil to the soft-and-sweet moment being shared by the bride and groom.
Based In:
Austin
Website
Average Price:
$$$$
Recent Fearless Awards:
7
165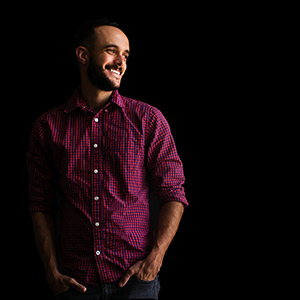 About Adam Kealing:
Meet Adam - a lover of all things music and political satire, with an irresistible itch for adventure and open arms for all those willing to join him. He'll make you laugh 'til your side hurts, if you pay attention, but has a disarming sincerity that could melt an ice cube. Through the lens, he sees drama, scale and perspective, and transforms a real life moment into art in an instant.
View Full Profile
All Fearless Awards by Adam Kealing