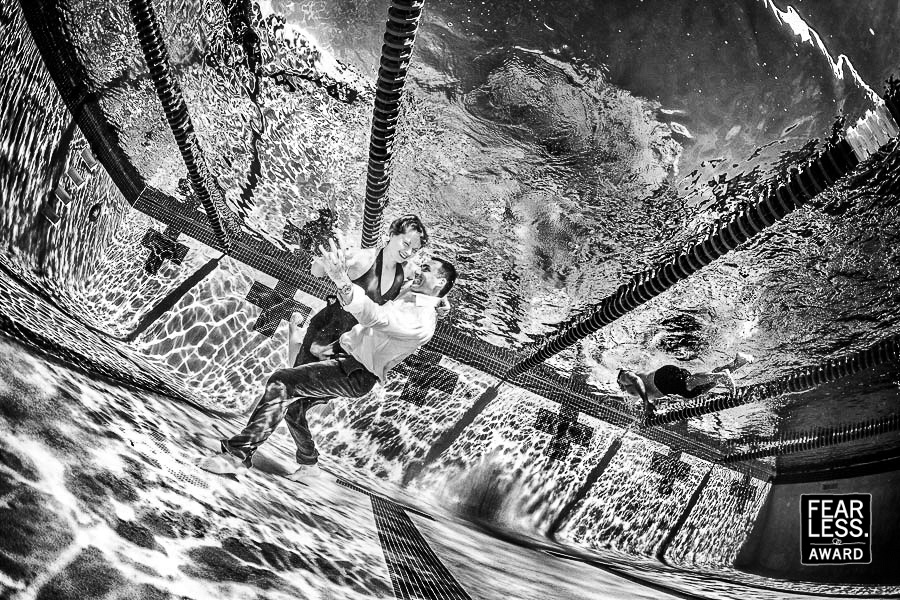 The underwater setting makes this an unexpected wedding image, but it's the outstanding use of all the other elements that really makes it special. The couple is beautifully posed and lit, the composition is spot-on, and the addition of a man swimming past in the far lane adds more than a little humor.
Based In:
Denver
Phone:
970 286 8351
Website
Average Price:
$$$$
Recent Fearless Awards:
3
259
About Nathan Welton:
I'm a destination wedding photographer based in Colorado, but I shoot weddings worldwide.
About me: I left the newspaper world in 2006 to pursue wedding photography full time, and I haven't looked back once. Documenting weddings has taken me all over the United States, Mexico and the Caribbean, and into the inner spaces and passionate celebrations of hundreds of families. I am profoundly grateful for the clients who have entrusted me to capture their big days.
I approach weddings with sensitivity and humor, and I let events unfold organically and with honesty. I try to tell stories and document connections between people -- between bridesmaids as they get ready; between fathers and mothers as they watch ceremonies and recall their own, many years before; between a couple as they marvel at all the people who traveled from all corners of the world; or between best friends during the dance floor shenanigans.
When I'm not shooting weddings, I'm probably cycling, trail running or rock climbing -- or working on my newfound passion: perfecting my home-baked sourdough boule.
View Full Profile
All Fearless Awards by Nathan Welton