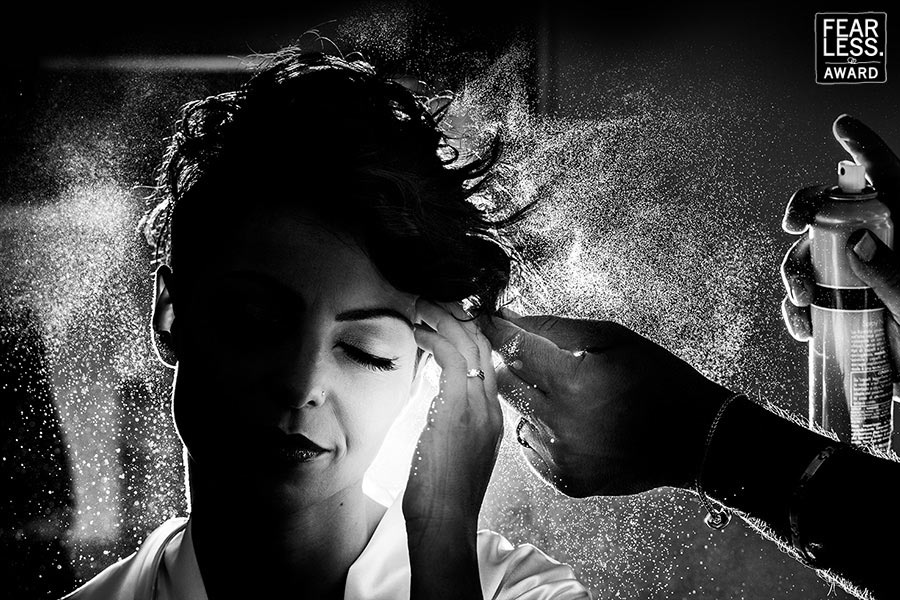 With strong backlighting, this photographer created a truly unexpected image of the bridal preparations. The mist of hairspray is frozen in a cloud around the bride, who lifts a hand to shield her eyes. The combination of high contrast split lighting and edge lighting on the bride is amazingly flattering and dramatic.
About Vincenzo Massaro:
For over thirty years, our photographic studio has eternalized love stories. From Apulia to beautiful Rome, from Milan to Sicily, we have captured the real atmosphere of each love story. I think that every image should be able to revive the same enchantment of that unique day. That's why the photographer must be able to immerse himself in your dream without distracting you from the warmth of friends, a lovely embrace with family, or an emotional tear.
My wish is to leave a mark by making a collection of natural and spontaneous images. For me, being there provides immense gratification because you have trusted me with your memories, and this reminds me that my job is "the best job in the world."
View Full Profile
All Fearless Awards by Vincenzo Massaro