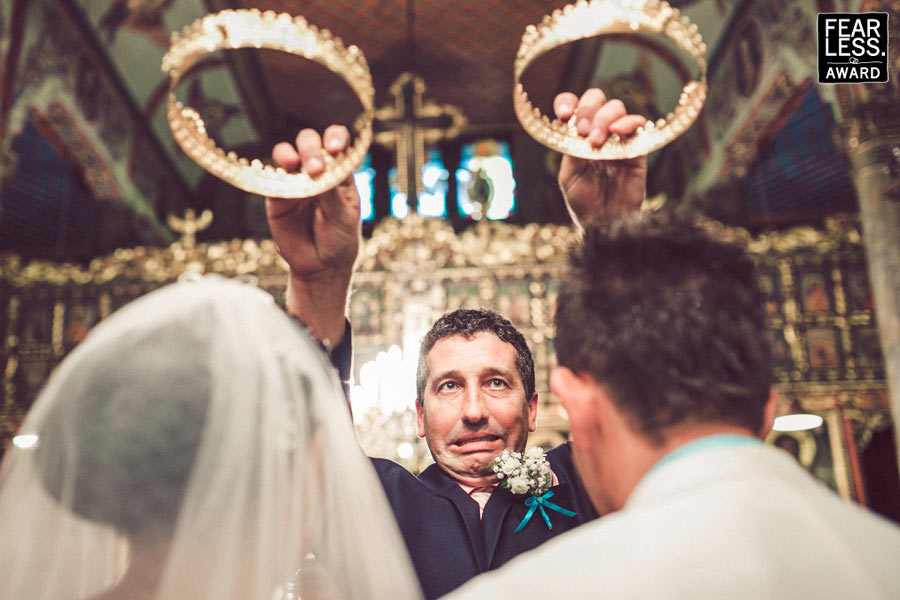 The bride and groom are not the only ones taking the wedding very seriously. In addition to capturing an important moment from the ceremony, the photographer centered the composition on this rather fraught expression. It's an amusing interpretation of an age-old tradition.
Based In:
Bulgaria
Website
Average Price:
$$$$
Recent Fearless Awards:
1
21
About Gogo Kehayov:
Gogo has been creating pictures since his studies in the Faculty of Fine Arts in the Veliko Turnovo University, wherefrom he has graduated with a major in "Graphics". After he starts to work as a professional photojournalist in 2002, Gogo discovers that he could outspread his creativity and his artistic education fully in the wedding photography. Since then had the honor to has number of national and international awards.
Apart from photography Gogo enjoys riding a bicycle, climbing cliffs or you can find him in the Visual Arts Galleries. Often you can meet Gogo in places where jazz or any other improvisation is happening. Another usual occupation of Gogo is the meditation, which helps him to cope with the chaos and the intense everyday life. When he is not shooting, most often you can see Gogo with his lovely girlfriend (already a wife :)) Eva. They love to travel together and to take pictures...what a surprise. :)
View Full Profile
All Fearless Awards by Gogo Kehayov